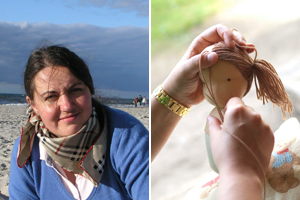 About me
My name is Agnieszka and I'm a visual artist. My adventure with Steiner dolls began in Waldorf kindergarten where my son attended. My dolls are my passion and I put a lot of creative energy into my work and hope it is felt by those families who welcome them into their homes. Sewing dolls allows me to use many of my skills. It is wonderful to observe an idea becoming reality thanks to the work of your own hands. Moreover, while sewing or crocheting I feel I continue a family tradition. A lot of women in my family have "golden hands".
About Lalinda dolls
Sewing dolls is a creative and laborious process. I must be a stylist, tailor, barber and cobbler at the same time. Every doll of mine is one-of-a-kind with clothes carefully designed to match their personality. Almost all have fully embroidered heads (such a hair that can be restyled) and extra clothes that can be changed in the basic set. I make sure I use natural materials of a high quality. For the doll bodies I am combining cotton with Oko test label from Switzerland, the Netherlands and Germany. Eyes are embroidered and all the seams are sewn twice for durability.
Although I work mainly on a custom order basis I also offer ready-to-go dolls throw my page or Etsy shop (I do announcement about such a dolls on my FB profile, you may leave also your e-mail address I will inform you about such a occasions). I make 4-5 dolls per month because each takes me several days to finish. I sew dolls for children (girls, boys, baby dolls, soft cuddle dolls) but adult lovers are also welcome. I also offer extra doll clothes, bedding and other accessories. Each doll leaves my home studio dressed according to the season and with a certificate.
Once in a while I make special characters like a weighted baby dolls for babywearing consultants, dwarves or crocheted animals.

How can I order a Lalinda doll?
If you are interested in a custom doll you are welcome to contact me by email: anowak108@gmail.com or use the contact form provided. You may choose the doll size, characteristics and the preferred colour for the clothes. You can also choose a doll from my portfolio (Flickr photostream ). The waiting time for Lalinda doll is several months. When your custom spot becomes available, I will contact you to discuss the details. I'm not taking pre-pay payments. After finishing work I present an ordered doll on my website. If the doll meets your expectations we will complete the order. I accept PayPal payments and bank transfers.
Prices for Lalinda dolls
Tiny doll up to 8 inch – 80-160 USD plus shipping cost
Doll 14 inch (girl or boy)/30 cm – 180-240 USD plus shipping cost
Doll 16 inch / 40 cm (girl or boy) – 240-300 USD plus shipping costs
Baby doll 16 inch / 40 cm – 260-320 USD plus shipping costs
Doll 17,5-19 inch / 45-55 cm – 290-400 USD plus shipping costs
Doll with sculpted face inch / 45-55 cm – 400-520 USD plus shipping costs
How to choose a doll?
You often ask me for advice about what kind of a doll would be the best for your child. Here are some tips (notice that these are my personal suggestions).
A doll should be a child's best friend. If you are not planning on buying a doll off the shelf it ought to meet the child's needs which may be very different from your expectations. More often than not a child likes to take on a caring roll towards its doll and the doll in turn should fit the age and manual abilities of the child. For very young children (up to 3 years) small dolls are the best (8-12 inches). A doll will be taken outdoors, slept with so it has to be small enough to fit in the child's hands, sit comfortably with it in a pram or fit into mummy's handbag. Big dolls are too big, limp and heavy for toddlers. 20 inch dolls look great but can you imagine playing with a doll half your size?
There are other very practical considerations – personally I wouldn't recommend the brightest skin colour for a simple reason – it easily becomes dirty. Small children are usually not careful when playing, they like to suck the doll's hands, give jammy kisses etc. It is therefore important that a doll can be washed (in a washing machine is best). For the same reason I discourage you from buying a doll with natural hair (mohair weft). It looks gorgeous but young children are generally heavy handed and play forcefully. Mohair weft is unsuitable for such play. When it looses some hair the rest tends to fall out too. A doll of such quality needs attention when being played with and I would recommend it for ages of AT LEAST 6+ otherwise you may worry that their expensive toy is getting damaged.
Dolls for toddlers don't need many clothes as they have not yet developed the concepts of changing it. One simple dress, a hat, a cardigan and shoes is more than satisfactory. I would rather suggest purchasing a bed, a pram or a carrier. In other words buying something which toddlers can play with themselves.
In custom made toys buttons are often used. They may fall off and be swallowed so please check them from time to time or ask for "safe" clothes for a doll. There are patterns for such outfits although often they are more difficult to put together.
To sum up – for a child up to 3 years of age I would recommend a simple doll of up to 12 inches in height with woollen hair (or mohair / boucle in a permanent hair style) with joyful and colourful clothes.
Children in the ages of 3-6 develop their manual skills. They love to change clothes, create hairstyles etc. A doll for them may be 12-18 inches in height (in my opinion 15-16 inches is the best) with long hair and a mix and match wardrobe with various fastenings – buttons, press studs and bows. Good practice for small hands. A little advice: don't buy too many accessories at once. Playing with dolls teaches our children the concept of caring for others. Lots of accessories can serve only to distract and not teach. A doll that is given new clothes periodically is like brand new and will receive more love. It is also very real in the child's eyes whether it be getting a new swimming suite for summer or a warm coat for winter. If you can do it – try to make some outfits yourself. Go on a shopping trip with your child, choose the yarn or laces together and knit a simple scarf or create a skirt tacking it at the top. For children it is more important that they created this themselves rather than it being proffesionally made. At this age children learn through copying what adults do and will show the same enthusiasm as you do.
Summarizing – for a child of ages 3-6 I would recommend a doll of 12-18 inches in height (in my opinion 15-16 inches is best) with long hair (woolen are the most durable) and many various multi-fastened outfits. A doll ought to be able to meet the wear and tear of children of such age. It should also be able to stand and sit.
Children over 6 are usually ready for more sophisticated dolls – larger (18-22 inches) with more delicate hair (for example mohair weft) and extravagant, difficult to put on outfits. They want to be proud of their dolls. It may be a good idea to discuss with them (if it a custom made doll) all the details – size, hair and eye color, clothes style, preferred accessories etc. It is also nice to buy more unique outfits – a doll that matches a child's interests – hunting apparel, pilot, a fashionable party dress etc. They have their interests and opinions and these should be taken into consideration first and foremost when choosing the right doll.
If you have any other questions you are welcome to contact me via e-mail: anowak108@gmail.com .
Thank you very much for visiting my website.